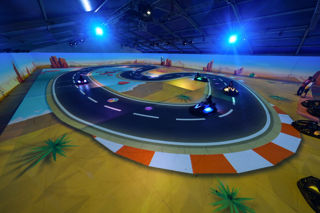 UK's first live action video game experience
The UK's first live action video game experience launching in Manchester & Dubai
Opens 1st September 2023
Chaos Karts, the UK's first live action video game experience that combines real-life racing with augmented reality is coming to Manchester on Sept 1st 2023. The all-new attraction throws players into a virtual world, living inside a real-life video game to race-battle their friends, family, rivals and colleagues. Tickets are on sale now – starting at just £15 per person.
Engineered by The Ents Inc, Chaos Karts combines the worlds of go-karting and augmented reality. This completely unique and highly innovative experience will have players burning rubber around a potentially infinite number of tracks in a digitally projected world, whilst their vehicle interacts with the virtual track and any challenges rival players might "launch" their way.
With no physical obstacles on the track and anti-collision technology, helmets and driving suits are not required. Ensuring Chaos Karts is an unrivalled, fun-fuelled experience for everyone aged 9 and above. The experience will transport players worlds away from the everyday as they compete against each other to win points and races.
Using unmatched, state-of-the-art technology, the karts will be kitted out with features to produce real life sensations and reactions that will immerse competitors fully into the high-energy thrill ride. Each race varies in design, complete with pumping music and ground-breaking in-game usable in-kart power-ups with weapons that will allow players to 'battle' right up to the finishing line.
In what will be an action package year for Chaos Karts, 2023 will also see the opening of a first Chaos Karts international franchise site launching in Dubai. Our partner in Dubai Rushd Mowjee said "this futuristic project is set to take the city by storm, offering an exciting and immersive racing experience like no other."
Tom Lionetti-Maguire, who was also the Founder of Little Lion Entertainment, creators of The Crystal Maze & Tomb Raider Experiences, said of The Ents Inc's new Chaos Karts attraction:
"We are so excited to be launching this brand-new attraction, and especially to be doing so in Manchester & Dubai this year. Creating a real-life version of a videogame has been an obsession for some time and Chaos Karts is a real game changer. It's literally like stepping into your favourite racing game and I know the people of both these great cities are going to love it."
Chaos Karts is set to be one of the biggest attractions in 2023 – pit stop whatever you are doing fast, and book now to avoid disappointment.
Keep up with the chaos
Sign-up to our newsletter and receive exclusive news, offers and events.