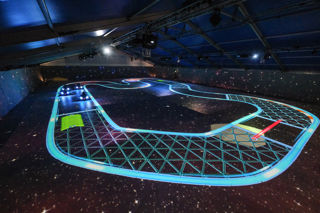 'Design a Track' Competition to Be Judged by Formula 1 presenter
Chaos Karts, the UK's first live-action video game immersive experience that combines real-life racing with augmented reality is launching a competition to design a level which will be judged by Sky Sport's Formula 1 presenter - Natalie Pinkham. The winner will have the chance to have their track included as a permanent level at Chaos Karts plus an expense paid weekend in Manchester as well as tickets to Chaos Karts experience. 
The all-new attraction launching in September is giving the public the opportunity to create an in-game level including anything from the weird to the wonderful. The sky is the limit with no rules for the competition, creators can submit the track in any way via sketch, computer design or even a built model – it is time to get creative! Submissions can include anything, including unique ideas for in-game powerups the state-of-the-art karts will use. Entries can be made through the submissions link here.
The winner's prize will include the chance to have their very-own design built at Chaos Karts, a weekend away in Manchester (one night in a hotel and an evening meal out) as well as receiving two tickets to play the Chaos Karts. Three runners-up will receive four tickets each to play Chaos Karts worth £140.  
Chaos Karts combines the worlds of go-karting and augmented reality. This completely unique and highly innovative experience will have players burning rubber around a potentially infinite number of tracks in a digitally projected world, whilst their vehicle interacts with the virtual track and any challenges rival players might "launch" their way.
With no physical obstacles on the track and anti-collision technology, helmets and driving suits are not required. Ensuring Chaos Karts is an unrivalled, fun-fuelled experience for everyone aged 11 and above. The experience will transport players worlds away from the everyday as they compete against each other to win points and races.
Using unmatched, state-of-the-art technology, the karts are kitted out with features that produce real life sensations and reactions that will fully immerse competitors into the high-energy ride. Each race varies in design, complete with pumping music and ground-breaking in-game usable in-kart power-ups with weapons that will allow players to 'battle' right up to the finishing line.
Chaos Karts is set to be one of the biggest attractions in 2023 – pit stop whatever you are doing fast, and book now to avoid disappointment.
Terms and conditions apply, see website for details.
Keep up with the chaos
Sign-up to our newsletter and receive exclusive news, offers and events.