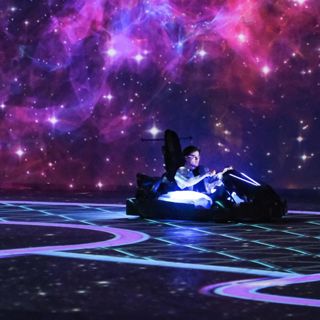 The Alternitive Night Out In Manchester
In recent years, the traditional concept of a night out in the UK has undergone an incredible transformation. Gone are the days when a trip to the local pub or a night of clubbing were the only options for socialising after dark. Today, an increasing number of people are seeking alternative experiences that offer unique and immersive forms of entertainment - just like us!
From quirky pop-up events to interactive theatre performances and unconventional venues, the alternative night out is capturing the imagination of people across Manchester, and the rest of the UK.
That's where we come in, we help you cater for your friends diverse interests.  What makes the alternative night out so appealing is its ability to cater to a wide range of interests. Whether you're a thrill-seeker, competitive, loves a tipple (post race, obviously), or someone who likes to have some good clean fun - there's something for everyone at Chaos Karts. The diverse nature of experiences, like us, ensures that people can find an alternative night out that aligns with their passions and preferences!
Alternative nights out, like Chaos Karts, have embraced change and innovation. The rise of the alternative night out reflects the UK's openness to change and innovation.  Chaos Karts is the first experience of its kind in the UK that blends augmented reality with go-karting, giving you the chance to experience something unique with friends. 
So, if you're looking for something different to do, and a break from the normal hum-drum of planning time out with your friends and family, book your tickets now and experience Chaos Karts for yourself. Tickets start at just £22pp. 

Making a bigger night of it? Be sure to check out our neighbours The Crystal Maze LIVE Experience Manchester and keep the fun going even longer!
Keep up with the chaos
Sign-up to our newsletter and receive exclusive news, offers and events.