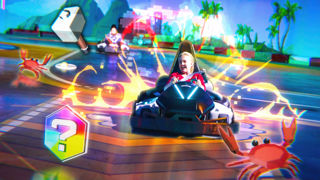 Unleash the Ultimate Thrill on School Inset Days in Manchester!
Looking for the most electrifying way to spend your School Inset day in Manchester? Look no further than the heart-pounding action at Chaos Karts – the absolute highlight for adrenaline seekers aged 11 and above!
Chaos Karts Adventure:
Experience the rush of go-kart racing like never before at Chaos Karts! Our state-of-the-art tracks are your playground of high-speed excitement. Channel your inner race car driver as you navigate hairpin turns, straightaways, and exhilarating curves in our immersive reality augmented reality tracks as they are projected around you. With adrenaline-fueled races and fantastic power-ups to make you go faster, trip up your opponents and much more, Chaos Karts is the ultimate destination for those who crave the thrill of the track.
School Inset Days just got more fun:
On your day off from school, there's only one place where the action truly revs up – Chaos Karts! Gather your friends, challenge your family, and embrace the competitive spirit that comes alive on the track. Feel the wind in your hair as you zoom ahead to victory, leaving all else behind.
🏁 Why Chaos Karts? 🏁:
Adrenaline-pumping races on cutting-edge tracks
Open to everyone aged 11 and above
Immersive race tracks projected around you
Unforgettable memories with friends and family
A thrilling experience like no other in Manchester
State-of-the-art karts with anti collision technology - this means no helmets or smelly coveralls
Located in Spinningfields, just a short journey from Manchester Piccadilly
We're next door to The Crystal Maze LIVE Experience Manchester - so why not extend the fun and visit them too! 
Don't miss out on the chance to be part of the Chaos Karts excitement on your School Inset day. Grab your spot on the starting line and get ready to take the lead!
Make Chaos Karts the highlight of your School Inset day – where speed, competition, and exhilaration collide! Don't just watch the action, be a part of it at Chaos Karts.
Get ready to race – we'll see you at the track!
Keep up with the chaos
Sign-up to our newsletter and receive exclusive news, offers and events.