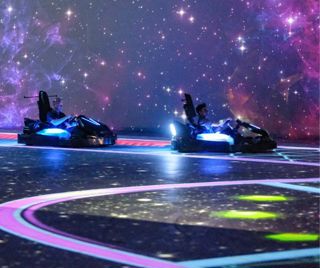 We've launched gift vouchers!
'Tis nearly the season for giving, and we're thrilled to say that we've just launched our gift vouchers.
Get ready to 'win' secret Santa, and top gift of the year, when you hand over a Chaos Karts gift voucher to you nearest and dearest. Vouchers can be purchased from £20 and then are easily redeemable against any of our tickets via our web shop. Simply visit our dedicated gift voucher web shop here to purchase and you're voucher will be emailed out to you!
So whether you're celebrating, birthdays, Christmas, valentines day and everything in between, give the gift of the ultimate racing experience. 
Chaos Kart is suitable for individuals aged 11+ and over 5ft tall.
Keep up with the chaos
Sign-up to our newsletter and receive exclusive news, offers and events.