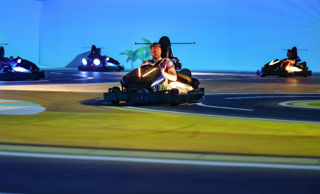 A Must-Do Activity in Manchester
Experience the incredible Chaos Karts Manchester: A Must-Do Activity in Manchester
Are you looking for an adrenaline-pumping activity in Manchester? Look no further than Chaos Karts Manchester! Our indoor augmented reality go-karting experience is perfect for anyone who loves competition, a good challenge, and having fun.
Located in Manchester Spinningfields, Chaos Karts Manchester offers an exciting and memorable activity for friends, family, and colleagues alike.
But what makes Chaos Karts Manchester stand out from other go-karting experiences in the area? Here are just a few reasons:
With the virtual world being digitally projected around you, the experience brings you an augmented reality experience without the need for any headsets or personal screens. It's just you, your kart, and the virtual tracks.
It's like 'Mario-Kart' in real life. With power-ups that make you go faster, help you slow down your opponents or give you extra 'lives' - Chaos Karts is where gaming meets live-action driving. 
It's fun for everyone. Chaos Karts can be enjoyed from drivers just 11 upwards. So grab your family, your friends, your granny, or your boss, it's an experience everyone will love. You can read more about access and restrictions by visiting our FAQs.
Convenient location: Chaos Karts Manchester is located just a short distance from Manchester city centre, and Manchester Piccadilly train station, making it easy to get to for locals and visitors alike. Whether you're looking for a fun activity to do on a weekend or a corporate team-building activity, we're the perfect choice.
But don't just take our word for it - here's what some of our satisfied customers have to say:
"It was such a cool experience we can't wait to do it again" - Kiss FM Radio.
"We absolutly LOVED it," The Daily Mirror.
"I was blown away by the technology." - Tamsin.
So if you're looking for an exciting and thrilling activity to do in Manchester, look no further than Chaos Karts Manchester. With state-of-the-art karts, augmented reality and immersive projected track, and a convenient location, we're the perfect choice for anyone looking for an unforgettable experience.
Chaos Karts Manchester opens September 2023
Keep up with the chaos
Sign-up to our newsletter and receive exclusive news, offers and events.