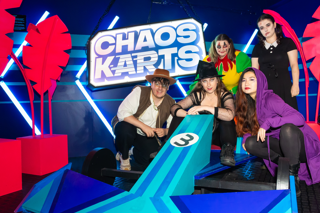 Race into Halloween at Chaos Karts
Posted On 19 October 2023
Chaos Karts, the UK's first live-action video game experience, will be opting for the treat this year with an exciting 50% off voucher for those who take on the high-speed corners in their most bewitching Halloween costume yet! The all-new attraction in Manchester will be welcoming all the ghouls and boys for an exhilarating spine-tingling experience this Halloween for the sprightly night out yet.
Gather the squad and prepare for a hair-raising race through the dark and immersive realm of augmented reality. With Each race varying in design, complete with pumping music and ground-breaking in-game usable in-kart power-ups, players can battle right up to the finish line at this unique state-of-the-art experience.
But wait, it gets even better! Those who dress in their most spook-tacular attire and book in to play on October 31st, will snatch a voucher that's as fang-tastic as it sounds - 50% off four tickets for up to four fearless souls, redeemable before March 2024. Beware, though, this offer is only valid for those who pre-book their tickets.
Alongside Halloween, all students can ramp up the antics every Tuesday night for a belated celebration with 20% off online tickets. Please note, this exciting offer is exclusively for higher education students and approved apprenticeship scheme participants. To prove your status, make sure to conjure up a valid student photo ID from your university, college, or apprenticeship scheme.
So, whether you're a witch on wheels or a ghostly speedster, Chaos Karts is the place to be this Halloween season! Prepare for a night of thrills, chills, and racing skills that'll haunt your dreams (in a good way). See you at the starting line, if you dare...
Keep up with the chaos
Sign-up to our newsletter and receive exclusive news, offers and events.